Donate to The Friends of Old St. Thomas Online or by U.S. Mail
We feel a strong sense of responsibility to preserve the history of Pennsylvania's first parish, but we encounter many expenses in fulfilling this commitment.  Your generous support for our continuing mission of preservation and education is deeply appreciated.  All donations will be acknowledged by a receipt.  For more information, please contact us directly, call (610) 459-2224, or use the addresses at the bottom of this page.
Donors may choose from among several methods for making a contribution to the Friends Of Old St. Thomas:
Contribution to our Memorial and Honor Gift Program (link)
Unrestricted online contribution (link)
Unrestricted contribution via U.S. Mail (link)
Contribution to Our Memorial and Honor Gift Program:
Participating in the Memorial and Honor Gift Programs honors living or deceased individuals and supports the work of The Friends of Old Saint Thomas.  For donations of $25 or more individuals or groups may enroll the name of living or deceased persons in The Old Saint Thomas Memorial and Honor Book, displayed on special occasions.  The Friends of Old Saint Thomas will send a notification card to a designated recipient.
Donations of $1000 or more are recognized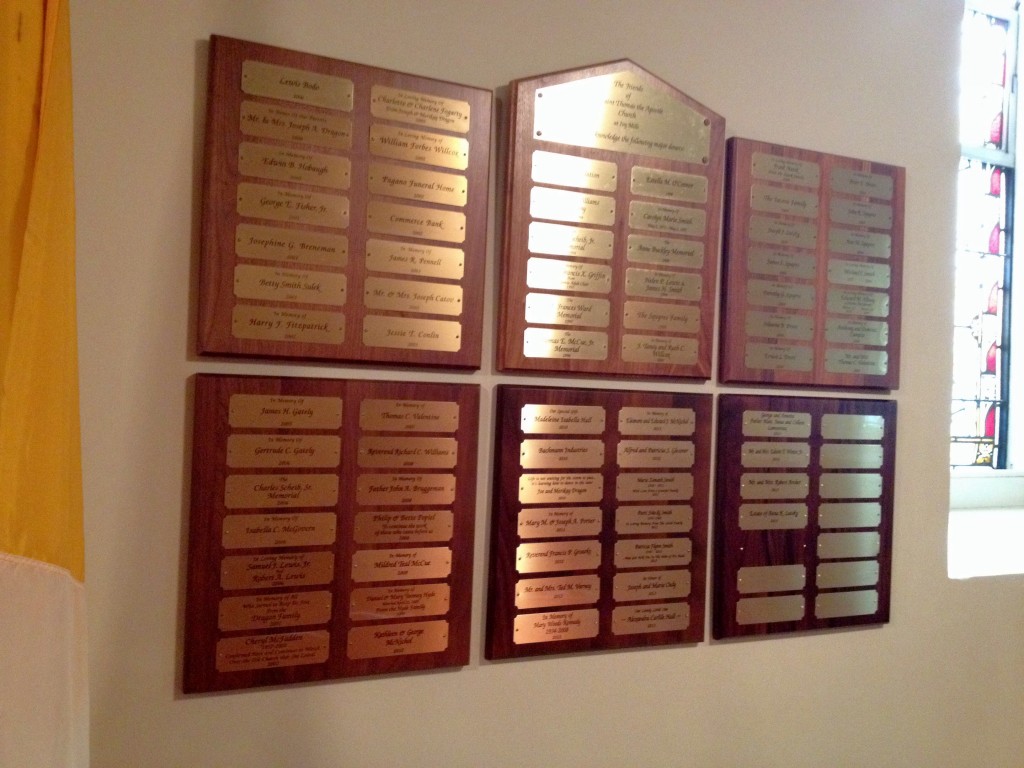 on the donor plaque in our 1852 church.  These donations can be cumulative over time.
Donors wishing to make a Memorial contribution should print out our Memorial and Honor Gift Program form and mail it with their contribution to:
The Friends of Old Saint Thomas
P.O. Box 19
Chester Heights, PA 19017
Please make checks payable to Friends of Old Saint Thomas.
(return to top of page)
—————————————
Unrestricted Online Contributions:
Payment will be made via PayPal.
You may use your own credit card, if you wish.  Click the "Donate" button and then click on "Continue" in the lower left corner after "Don't have a PayPal account?  Use your credit card or bank card (where available)."  
(return to top of page)
—————————————
Unrestricted Contribution Via U.S. Mail:
Please click on the link to our form,  print it out, fill it in, and send it with payment to:
The Friends of Old Saint Thomas
P.O. Box 19
Chester Heights, PA 19017-0019
( Please make checks payable to The Friends of Old Saint Thomas.)
– – – – – – – –
If you prefer, you may direct your donation to our 501 (c) (3) corporation:
The Historic Ivy Mills Project
EIN:  23-2739022
PA Bureau of Charitable Organizations Registration Number:  29123
Please click on the link to our form,  print it out, fill it in, and send it with payment to:
The Historic Ivy Mills Project
P. O. Box 19
Chester Heights, PA 19017-0019
(Please make checks payable to The Historic Ivy Mills Project)